Viva Las Vegas Commercial UAV Expo!
Two weeks before the Commercial UAV Expo the buzz was building; are you going to the UAS Conference?
One week before the UAV Conference the enthusiasm was off the charts! Women and Drones along with Desi & Kim's Coffee Connection has created an amazing network of passionate and collaborative dronies. Now we were finally going to get to connect in person. We were so excited!
The Commercial UAV Expo was superb! The networking, vendors, drones, workshops, and energy was top level. To start the expo with a bang, Desi Ekstein, Patricia Duaybes, and I went out the first night we landed in Vegas and flew our drones around the Red Rock area with a local friend. I also signed up to get certified in Night Operations with SMG. Jennifer Pigeon and her team including Linda Quackenboss took us through an extensive training including flying out in the desert at Seven Magic Mountains in the dark. It was a remarkable training experience.
Some of the highlights from my prospective were the package delivery drones. The future is here! They were big and bad and I would envision them flying through the sky delivering my pet food, flowers, drone gear, and Christmas gifts. The thought still blows me away! There was a robotic dog "Spot" walking around that caught everyone's attention. The Seeker fixed wing drone was absolutely beautiful. I really love the look of the Verizon Anafi Parrot drone. Its French design is glamorous and the case it comes in looks like a designer handbag. I want one! Women and Drones hosted a panel discussion "Meeting Growing Demands and Fueling Adoption" lead by Kimberle Penn. The panel was insightful and knowledgeable on how to be successful in diverse roles. The audience was asked to participate in small group strategies to inspire and attract more women to the UAS industry. Women love to collaborate and share. The energy in the room was electrifying!
Being reunited with my drone Sisters and meeting others for the first time in person was powerful. Women and Drones was a force of beauty, passion, enthusiasm, and talent. It's an amazing honor to be part of this powerful tribe of trailblazing women. Our presence was evident as we were asked to pose for pictures, do impromptu interviews, come out to the vendor after parties, and so much more. We definitely added a variety of spice to the UAV Commercial Drone Expo!
Overall it was a positive, collaborative, and inspiring experience I would highly recommend to anyone interested or doing business in the UAS space to get out to the next UAS Conference. I know it's an investment of time and finances yet the ROI has taken my vision, resources, and business to a whole new level. I actually thought as I was flying home to Philadelphia "Kim you are playing way to small." Watch out world here I come!
Blessing to all,
Kim Players, First Lady of Drones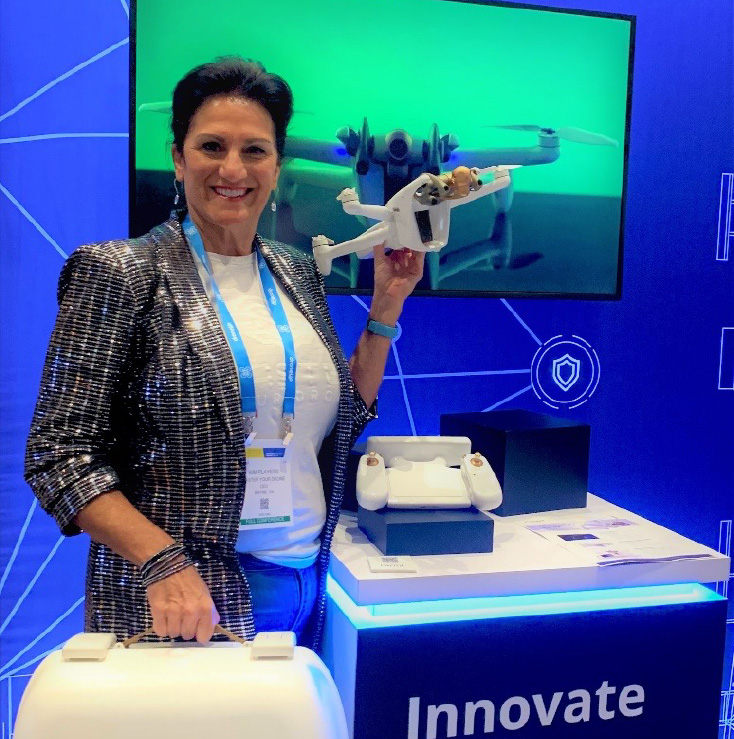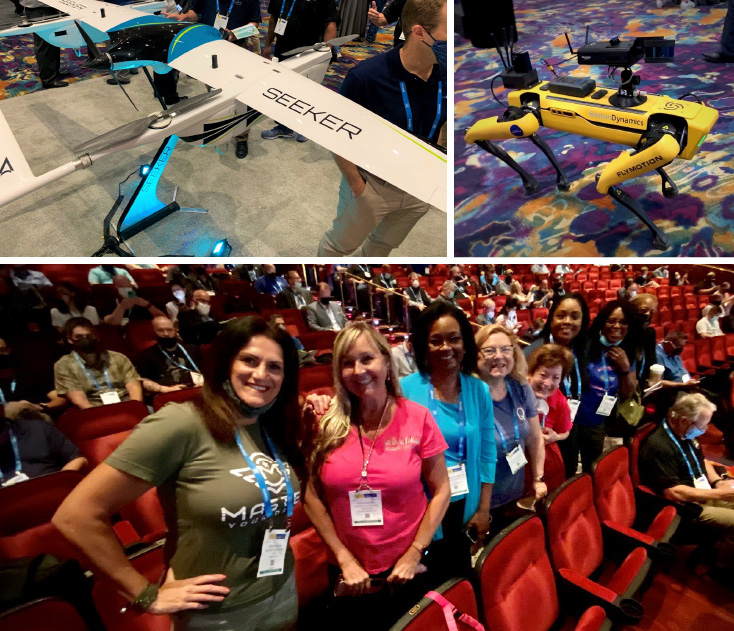 Left to Right: Kim Players, Desi Ekstein, Sharon Rossmark, Linda Quakenboss, Carolyn White, Patricia Duaybes, & Samantha Scully