Our diverse crew of certified drone pilots are passionate about sharing their varied expertise in UAS. As natives to the Greater Philadelphia Area, our drone experts understand how and where to fly safely in our active airspace.
Kim Players, First Lady of Drones
Chief Executive Officer (CEO) – Remote Commercial Pilot FAA Certified
Kim has spent the past 30 years in sales and marketing, public speaking, and leadership training.
Her ability as a visionary, educator, and team leader has given her boundless opportunities as an entrepreneur and professional speaker. As CEO of Master Your Drone she has attracted Angel Investors, won a grant from Penn State University, and was awarded office space through a startup accelerator program. Her interest in drones began at a speaking event when one of her colleagues displayed a DJI Inspire 1 drone. He told her a story of Search and Rescue where drone technology saved the day assisting with the aftermath of a devastating East Coast storm. Her WHY was ignited and the How became her passion. Now as a FAA certified drone pilot and founder of Master Your Drone Flight Training School, she is focused on educating and inspiring others in drone safety, performance, and commercial uses in the marketplace.
As a lifetime entrepreneur, businesses have moved through the seasons of her life with passion, purpose, and profit. The drone industry has given Kim an opportunity to embrace and celebrate her life's experiences & share them with others. "I love assisting people to find their passion, create their purpose, reach their goals, and create income." As a master trainer Kim has assisted thousands of eager clients to reach their goals and follow their dreams!
Kim is the Mother of two fabulous & focused daughters and has been married to her biggest fan Jeffrey for 31 years. Come fly with Kim, the view from the sky is simply spectacular!
Shari Williams, Goddess of Drones
FAA Airmen Knowledge Prep Test Instructor
Shari Williams, the "Goddess of Drones", is an established Public Relations and Community Outreach professional, stem and safety advocate. Shari has worked and partnered with stem programs and business professionals for over 23 1/2 years in state government and Corporate America. Shari has a bachelor's degree from Eastern University in Organizational Management and acts as the lead liaison for the integration of safety, compliance, and legal requirements of UAV systems.
Shari was introduced to drones in 2016 while having lunch with Kim Players. She quickly realized the opportunity presented and immediately wanted to master her drone skills and become a FAA Certified Pilot. Although flying drones is fun and rewarding it is equally challenging due to weather, safety, and airspace restrictions. As a partner with the Master Your Drone Flight School, Shari is passionate about teaching our students and assisting them to understand what it takes to become a FAA Certified Drone Pilot. She prides herself on our students passing the FAA Airmen Knowledge Exam with an 85-92%, and a readiness to take on the future as a drone pilot professional. Shari is quick to say "Shut up and Fly." a phrase she coined while learning to fly during her Master Your Drone flight training days.
Shari's personal mission is to help develop, guide, and encourage the next generation to look at Drones as a profession.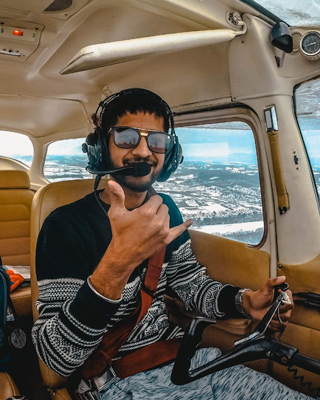 Parth Shah, Spitfire
FAA Airmen Knowledge Prep Test Instructor
Parth Shah (Spitfire) holds a private pilot's license & a part 107 certification. He's been a fan of aviation since he was a child. Growing up in India he would sit on the rooftop of his family home in Mumbai, India and watch airplanes take off and land. He never imagined that one day he too would be flying high in the sky. "This is a dream come true" Parth says as he fly's locally and is currently working on getting his Commercial Pilot's License.
Parth is a trainer for Master Your Part 107 prep test course. He specializes in National Airspace, Sectional Charts, and Weather. His students love his passion and attention to detail as he takes them step by step through the world of aviation and how it's related to UAS.
"I love helping and teaching people anything related to aviation because it's the coolest thing to do and is so rewarding."
He is continually working on his drone piloting skills as well flying various commercial drones. His motto is "A pilot is always learning!" We are blessed to have Parth as part of the Master Your Drone Team!
Tofunmi Adeyemi
FAA Part 107 Certified Pilot and Drone Pilot Assistant
Tofunmi is a FAA Part 107 Certified Pilot and Drone Pilot Assistant at MYD. After completing her undergraduate degree in Finance in 2019, her interest in emerging technology, artificial intelligence and innovation led her to proactively seek professional training in the drone industry. Through one of contacts, she was introduced to the Drone Program offered by the Philadelphia OIC which is facilitated by the renowned and accredited Master Your Drone team.
She successfully completed the course and received her Remote Pilot license in December, 2020. Tofunmi is currently a candidate for a Master of Science in Business Intelligence and Analytics degree. In her field, she has been able to identify how drones could be used to gather real-time data, aid recommendations and guide decision making for large organizations. She believes that anything is attainable if one sets their mind to it. She is committed to learning more about technological advancements and has a passion to be able to empower other young professionals to take bold steps and dare to dream big!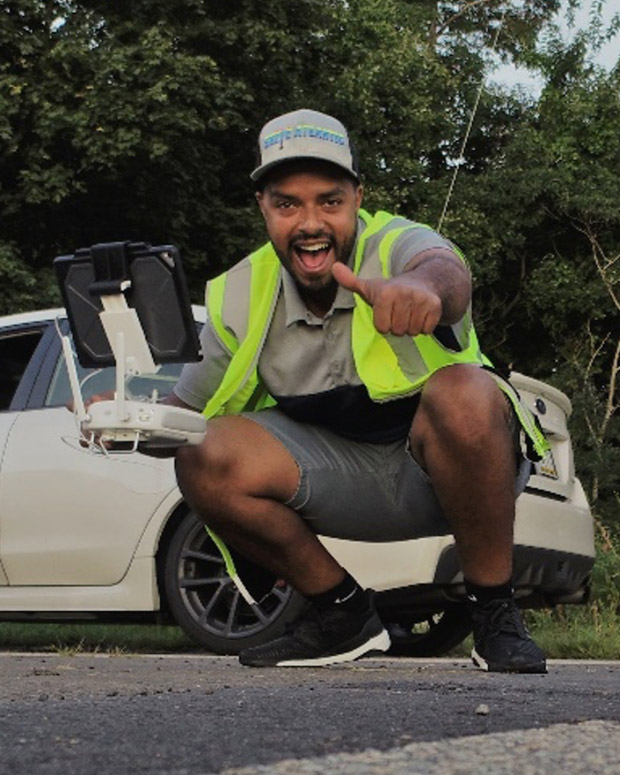 Izzy "Phlying Pharaoh" Mohamed
FAA Part 107 Pilot
Izzy is a Pennsylvania State University graduate with a Bachelor's degree in IST, Information Sciences & Technology. He has worked in IT for 10 years before realizing his dream of owning his own commercial drone business. He enjoyed R/C cars and BMX biking as a kid and adrenaline junkie activities like motorsports and mountain biking as an adult. The introduction of drones has brought all of his favorite passions together including helping others. As a Certified FAA Part 107 pilot, when it comes to flying for fun or in the field, done training, and troubleshooting Izzy brings incredible value to his students. He has recently gravitated towards the FPV side of the drone world and participated in a few drone races!
Izzy's has worked on a variety of commercial drone projects done for Adidas, Kohl's, Marriot, and Homewood Suites ranging from VA to Maine; and ongoing projects for Capital Region Water in Harrisburg for construction progress monitoring. His drone experience also includes building facade inspections, roof inspections, and mapping.
Izzy brings his vast experience to our MYD team and delivers it with loads of enthusiasm & passion.
He is currently working on Mapping and 3D Modeling to advance his drone services and expertise.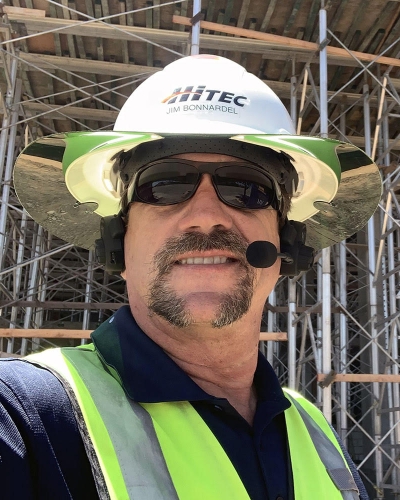 Jim Bonnardel
FAA Part 107 Pilot
Starting at the age of 4, Jim became a sponsored (Professional) RC Pilot. Being a skilled RC Pilot caught the eye of several component manufacturers and they wanted him in their roster. Understanding at a young age the responsibilities of being a solid product representative Jim continued his RC Career into his early 20's.  In his non-RC professional career, Jim has been a Heavy Truck & Bus Instructor, DMV tester (for same)  and managed a $7 million-dollar annual budget as the Fleet Services Director of the University of Ca, San Diego. In 2000 Jim retired from UCSD and went full time with his company RC Specialties dealing with corporate RC needs. Working for companies like Mt.Dew,  Pepsi. Co, Hard Rock Hotel and more,  Jim quickly pivoted into the drone marketplace.
In 2005, Jim was the largest warrenty repair station for DJI in So-Cal and realized that teaching people about the drones was the best way to sell them.  They were so new, no one knew how to operate them. He developed instruction methods and was very successful.   He continued with his Aerial Media business, and became an instructor for PrecisionHawk,   Sheild.AI and others who continue to use him as their primary instructor, for both multi-rotor and Fixed-wing aircraft.
With more than 3000 QFH's (Qualified Flight Hours),   Jim brings unique and passionate programs that empower Master Your Drone students with their drone flight safety, careers, and success.
Join Our Mailing List For News, Updates, and Available Courses
© 2022 Master Your Drone   |   All Rights Reserved