Welcome to Master Your Drone South Florida
Patricia Louise Duaybes, "Droner Prime"
FAA Certified Drone Pilot
Patricia is MYD's team leader in Southern Florida. Her enthusiasm and passion for flying drones and online gaming keeps her forever young. In 2017, she began flying drones recreationally after her husband gave her a drone as a gift. As an App Developer and avid on-line gamer, she was entranced by the dynamic maneuverability and speed of her first drone. This positive and uplifting experience led her on the path to acquire her FAA Part 107 Drone Certification, Night Flight Operations Certifications, and training others drone professionals in Southern Florida at Master Your Drone™️.
Patricia is a member in good standing with Women and Drones and the Association for Unmanned Vehicle Systems International (AUVSI). These trailblazing organizations have instilled the importance for drone enthusiasts (recreational and professional) to fly drones safely in order to increase drone flying globally. She looks forward to extending informational outreach to corporations, local communities, and organizations on the importance of drone laws, drone safety and hands-on drone pilot training. Her enthusiasm is contagious and her safety knowledge assists our MYD team and our students to navigate the complex and active Southern Florida airspace safely.
Desiree Ekstein, Drone Diva Desi
Adjunct Instructor of Unmanned Aerial Systems (UAS)
Desiree Ekstein, known better in the industry as Drone Diva Desi is an Adjunct Instructor of Unmanned Aerial Systems (UAS), also known as Drones, at TCI MiraCosta College, in Carlsbad California. Desi has over 7 years of remote piloting experience, is an FAA Certified 107 Remote Pilot in Command (RPIC), Canadian Advanced Remote Pilot (RPAS), and an AUVSI TOP Level 3 pilot and instructor status. She is also a Lead Representative FAA UAS/Drone Safety in San Diego California, and a UAS Safety Advisor for Women and Drones. She is an international public speaker and a published author. Desi has commercial flight experience in a wide variety of UAS industry applications and provides educational instruction for the Remote Pilot Part 107 exam. She also teaches UAS Operations at Elementary Science Institute (EIS) for the "Girls Take Flight" as part of a young female STEM program. In her spare time, she enjoys offroad adventures with her husband creating 3D models to preserve the history of the old mining era.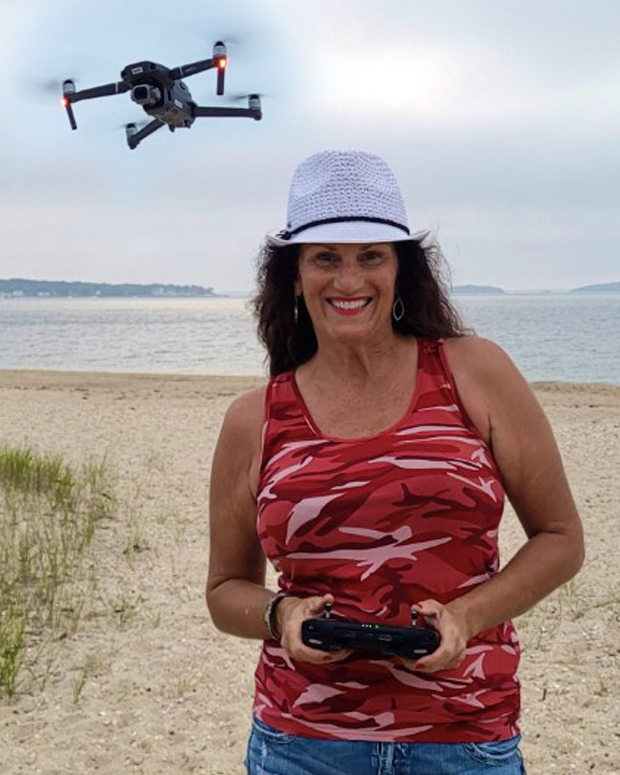 Kim Players, First Lady of Drones
Chief Executive Officer (CEO) – Remote Commercial Pilot FAA Certified
Kim has spent the past 30 years in sales and marketing, public speaking, and leadership training.
Her ability as a visionary, educator, and team leader has given her boundless opportunities as an entrepreneur and professional speaker. As CEO of Master Your Drone she has attracted Angel Investors, won a grant from Penn State University, and was awarded office space through a startup accelerator program. Her interest in drones began at a speaking event when one of her colleagues displayed a DJI Inspire 1 drone. He told her a story of Search and Rescue where drone technology saved the day assisting with the aftermath of a devastating East Coast storm. Her WHY was ignited and the How became her passion. Now as a FAA certified drone pilot and founder of Master Your Drone Flight Training School, she is focused on educating and inspiring others in drone safety, performance, and commercial uses in the marketplace.
As a lifetime entrepreneur, businesses have moved through the seasons of her life with passion, purpose, and profit. The drone industry has given Kim an opportunity to embrace and celebrate her life's experiences & share them with others. "I love assisting people to find their passion, create their purpose, reach their goals, and create income." As a master trainer Kim has assisted thousands of eager clients to reach their goals and follow their dreams!
Kim is the Mother of two fabulous & focused daughters and has been married to her biggest fan Jeffrey for 31 years. Come fly with Kim, the view from the sky is simply spectacular!
Join Our Mailing List For News, Updates, and Available Courses
© 2022 Master Your Drone | All Rights Reserved