Can I Fly My Drone in a National Park?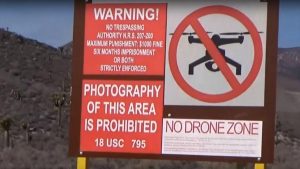 No, you can't. Drone owners are aware they should keep their unmanned aircraft away from airports yet can be surprised to find out they can't use them in National Parks.
In August 2014, the National Park Service (NPS) made it illegal to operate drones in National Parks under 36 CFR 1.5. Jon Jarvis, the NPS Director, issued a no-drones policy quoting safety and noise issues. According to Jarvis, drones are forbidden in the National Parks as their presence can be disturbing, both to people in the parks and to wildlife.
The ban covers full-fledged National Parks, monuments, historic sites, battlefields, seashores, biking trails, walking trails, rivers, and other places run by the NPS. Going against the prohibition can lead to a $5,000 penalty and six months in prison. A tourist was penalized for flying a drone into Grand Prismatic Spring located in Yellowstone National Park in 2014.
It may be possible to legally fly into a National Park as long as you do not takeoff or land on park property. This is because the FAA controls all airspace in the United States. Most monuments are further than the max range of 7 KM (4.3 miles) most high end drones have, so this can be challenging. Taking off outside of the park jurisdiction is risky as the National Park may still be able to cite you under several different provisions. Unless an unmanned aircraft pilot obtains special permission through the FAA, use of unmanned aircraft must remain line of sight. Park rangers enforce the prohibition, they have discretion to look at potential violations on a case-by-case basis. Drones can only be piloted in National Parks by licensed professionals with permits for search and rescue missions, fire safety, science studies, and research.

Grand Canyon National Park is one of the National Park Service locations that has begun a fleet unmanned aircraft program to assist with ranger operations such as search and rescue. Grand Canyon National Park does not allow recreational use of unmanned aircraft by the public.
Can You Fly a Drone in a National Forest?
You can't fly in National Parks, but what about National Forests? Fortunately, it's possible to fly your drone in most National Forests. Search for information on drone use for the National Forest that you plan to visit.
The National Park Service is controlled by the Department of the Interior. National Forests are under the jurisdiction of the United States Department of Agriculture (USDA). This is the reason for the differences in policies. National Forests are much larger than National Parks, so this actually means a lot of land is available for flight.
Most of the time National Forests are okay with flight, but they may require that you get a special permit for commercial flights.
Can You Fly a Drone in Wilderness Areas?
Not only are you restricted to fly your drone in National Parks and some National Forests, you are not allowed to fly your drone in wilderness areas as well. Drones are considered 'motorized equipment,' and as such, they cannot land in, take off from, or be operated from designated wilderness areas which only cover a small portion of National Forests.
These areas are considered ecologically sensitive—hosting threatened or even endangered wildlife that can be excessively affected by drone operations. Flying a drone near or over wildlife can create pressure that may change their natural behaviors, cause harm, and even death. Drone flights can harass and disturb animals and people enjoying the privacy of the wilderness. To help you be clear on the no-drone areas, you can download and use a map that shows the restricted areas and their locations.
Can You Fly Your Drone in State Parks?
Each state, county, and even city may regulate the use of drones in their jurisdiction. We recommend spending time figuring out local drone laws. Some cities have $500 or more fines for flying in restricted parks.
Many state parks allow for drone flight, but always check in advance and ensure that you are still 5 miles away from the nearest airport. Check the park website to see if it is an allowed activity at the park. If not, check with the park superintendent to see if an area can be designated within the park to operate safely.
In summary; do your homework! Plan ahead, check out websites, and don't take risks you are not willing be responsible or pay for, literally. There are a lot of amazing destinations & places to fly with your drone. Be creative, know the laws of the land and airspace you intend to photograph, and most of all fly safe & have fun!
Ready to take your flying to the next level? Check out our drone training courses!